Discover more from A Better Built Environment
Written and Curated by Lucas Gray. Thoughts on creating a better built environment: architecture, design, transportation, urban design, technology, cities, parks, accessory dwelling units, designing places for people, and running a design business.
Over 2,000 subscribers
Why Architects should consider the use of steam energy on their next building
By Lucas Gray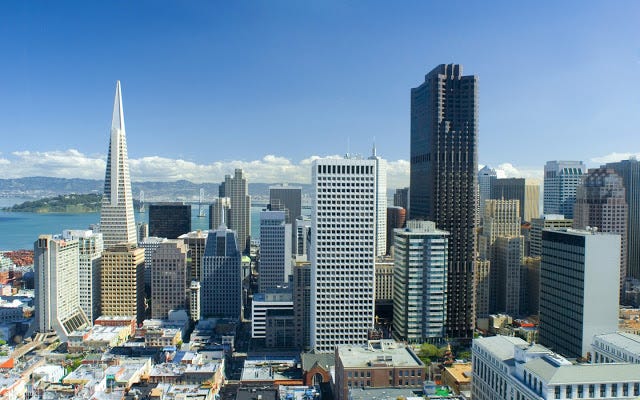 In 2015, about 40% of total U.S. energy consumption was consumed in buildings. A large percentage of that energy use was for heating. Architects have a tremendous opportunity to dramatically impact our societal energy consumption by designing buildings that are more efficient. One strategy to achieve this is to look at systems on a much larger scale. Rather than thinking about one building at a time, district or city-wide heating systems could quickly and cheaply increase the efficiency of buildings, saving money and resources, and better addressing climate change.
One strategy to consider when designing a new building in a major city is to consider utilizing steam to heat the building. Cities like New York, Boston, Washington DC, Seattle, Houston, Los Angeles, St-Louis, Denver and others have central steam plants which can be routed to individual projects. City-wide, or district-wide systems can be more efficient and affordable than having individual furnaces and heating systems in each building. Using steam along with a technology called a Vertical Flooded Heat Exchanger, has many design advantages including not needing chimneys and vents - saving space within the building on top of the energy savings.
Cities aren't the only places you can find steam systems available. Major hospitals, big university campuses, and other institutions often have steam available on site. It is also worth considering this sort of shared system when designing and building larger scale projects, corporate campuses, new urban districts or neighborhood developments. It is important to consider this sort of technology early on in the planning phases of larger scale developments.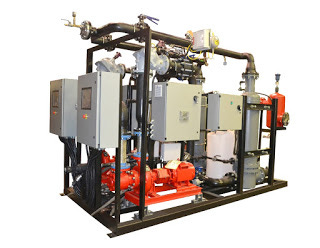 Using a vertical flooded steam heat exchanger is basically using a Steam Fired Boiler - heating a complete hot water or glycol loop with high pressure steam instead of using natural gas or oil. This is a great way to move away from carbon based heating systems.
There are many advantages to using high pressure steam and a vertical flooded heat exchanger including the following:
Takes up to 40% less space in the mechanical room

The unit is built with a high pressure ASME stamp to avoid the need for a steam pressure safety valve, meaning no need for a safety vent to the roof or exterior wall.

The vertical flooded steam heat exchanger design (VFSHTD), does not require any condensate pump, again there is no need for a vent to the roof or exterior wall for the flash tank.

Because there is no combustion, there is no chimney and no gas vents needed on the exterior

LEED Credits: Central Steam is most often produced by burning natural gas to generate electric power through a steam turbine or gas turbine. It is a relatively green energy and qualifies for LEED points.

The VFSHTD requires much less maintenance that conventional steam heat exchanger designs.

Steam is very reliable. In particular, if there is a steam leak it is relatively safe on not considered an emergency. You can continue to run the building heat or domestic hot water system and wait for the next scheduled shut down.

Because the flooding design works at a constant steam pressure, they don't need any vacuum breaker. Meaning that they don't inject O2 in the condensate return time, resulting in about 5 times less corrosion than a conventional design.

It requires much less maintenance than a natural gas boiler or domestic heater

EPA Rules: The Environmental Protection Agency has been increasing regulations for air pollution control. Major cities and universities are required to produce air pollution reports for every chimney they have, including smaller ones. This mean more tasks for facility managers. With a chimney free design, this can save a lot of time and money.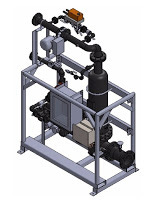 By integrating a steam energy system, an architect can deliver a better looking building with less demand on access to the facade or roof, saving space with a smaller mechanical room to produce building heat, and offering a system that requires less steam to do the same job, with lower maintenance than conventional steam system design. Architects often look to design their buildings with minimal interuptions on the facade and don't want to have exposed mechanical units on the roof. Utilizing a shared steam system would be a great opportunity to increase the freedom for design expression.
Maxi-Therm offers a complete solution with easy start-up and shut-down sequencing, web access to the control panel, thus offering immediate assistance, complete custom made skid packages which are easy to install, energy savings and a complete technical support for engineers and building owners.
To learn more about Maxi-Therm's Vertical Flooded Steam Heat Exchanger visit: www.maxi-therm.net or call (514) 351-1001