Discover more from A Better Built Environment
Written and Curated by Lucas Gray. Thoughts on creating a better built environment: architecture, design, transportation, urban design, technology, cities, parks, accessory dwelling units, designing places for people, and running a design business.
Over 2,000 subscribers
Where We Stand: AIA Statement on Immigration and Travel Restrictions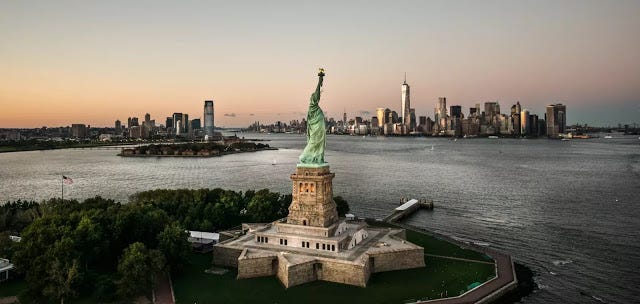 As discussion on immigration continues, the American Institute of Architects (AIA) today joins with many American businesses, industries and universities in calling for fair and impartial immigration policies, and in expressing deep concern about policies that restrict immigration from specific countries or regions based on overly broad factors, including religion.
"Beyond the essential considerations of fairness and equity, restrictions targeting specific areas of the world can have profoundly negative business impacts," said AIA President Thomas Vonier, FAIA. "Professional service exports are a key contributor to AIA member firms and their earnings. In fact, the entire international building development, design and construction sector relies heavily on reciprocal treatment and on the fair and ethical ability to travel, reside and work across national boundaries."
In addition to the need for regular legal travel by employees, clients and associates, many American architecture firms—like other industries and businesses—must be able to attract and retain qualified, skilled people from other countries in order to remain competitive. Targeted immigration restrictions, particularly when applied unfairly and without warning, can thwart recruiting efforts. They can also greatly inhibit business activity.
Finally, unilateral travel restrictions can damage the future of many professions, from medicine to architecture. In higher education, international students and faculty are essential to the future of our profession. The AIA also participates in international professional bodies which sponsor programs and activities that rely on the necessary movement of all parties.
The following statistics further support AIA's concern about the impact any newly imposed immigration or travel restrictions will have on the broader design and construction industry:
Immigrant labor accounts for 23% of the total construction workforce in the U.S. (Source: U.S. Department of Commerce, American Community Survey.)

In 2015, billings by U.S. architectural firms for international projects totaled $1.6 billion. Projects in Middle East countries accounted for 18% of those billings. (Source: AIA Firm Survey Report, 2015.)

Half of U.S. large architectural firms have offices in the Middle East/North Africa, which is the largest reported share of international offices. (Source: AIA Firm Survey, 2015.)

In the 2014-2015 school year, 4,283 architecture students at accredited programs were nonresident aliens. This represents 18 percent of the total—up from 6 percent in 2009. (source: NAAB annual report)

In 2015, 889 of the 6,348 total degrees (14 percent) were awarded to nonresident aliens. (source: NAAB annual report)

The AIA has 1,538 members licensed outside U.S. (887 International; 651 within U.S.).
The AIA stands for values and principles that promote free movement and association. Our profession, like the entire building industry, benefits from the contributions of immigrants and others outside of the United States, and from visa and immigration policies that are uniform, transparent, fair and free from arbitrary implementation.
About The American Institute of ArchitectsFounded in 1857, the American Institute of Architects consistently work to create more valuable, healthy, secure, and sustainable buildings, neighborhoods, and communities. Through nearly 300 state and local chapters, the AIA advocates for public policies that promote economic vitality and public wellbeing. Members adhere to a code of ethics and conduct to ensure the highest professional standards. The AIA provides members with tools and resources to assist them in their careers and business as well as engaging civic and government leaders and the public to find solutions to pressing issues facing our communities, institutions, nation and world. Visit www.aia.org.