Discover more from A Better Built Environment
Written and Curated by Lucas Gray. Thoughts on creating a better built environment: architecture, design, transportation, urban design, technology, cities, parks, accessory dwelling units, designing places for people, and running a design business.
Over 2,000 subscribers
Continuing Education: Mass Timber Construction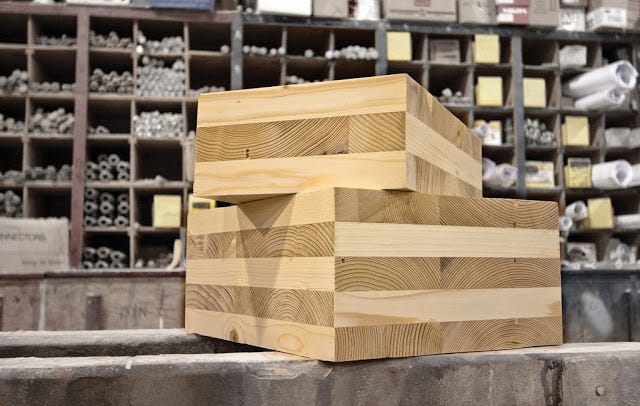 Portland, Oregon is leading the country in designing innovative buildings with mass timber. We currently have the tallest wood building in USA in Carbon 12, designed by Path Architecture, which is 8 stories and about 85' tall. However, this record won't last long as another Portland firm, Lever Architecture, recently received the permit to start construction on the first high-rise wood building, called Framework.
Being based in Portland, I'm familiar with both of these projects and was excited to see one of them, along with Albina Yard, a local low-rise CLT project, being used as a case study in a Continuing Education course through Architectural Record.
Continuing Education: Mass Timber Construction
Although only four stories tall, Albina Yard, a spec office building, stands out among its one- and two-story neighbors in the scrappy residential and commercial district in north Portland, Oregon. Looking up from the street through the horizontal bands of the glass facade, the ceilings of each level—planes of warm Douglas fir—are visible. These elements are not just finish material but the building's exposed floor plate. Designed by Portland's LEVER Architecture, Albina Yard, completed in 2016, is one of a handful of buildings in the U.S. constructed using a mass-timber structural system.
The divide between the new office building and its grittier context is bridged by the architect's use of understated formal moves and a humble material palette. The scale of the street elevation is modulated and delineated in a subtle dance of cantilevers. The second story projects straight out to form a shallow protected zone over the storefront at the ground-floor retail space. The facades of the third and fourth floors twist a few degrees off the grid in opposite directions. The effect is like a stack of books slightly askew. Dark corrugated-metal siding, which clads the side walls and other opaque parts of the building, complements the nearly complete two-story office annex (also designed by LEVER) made of shipping containers and located in the rear courtyard of the L-shaped lot.
Although timber-framed construction has been around for thousands of years, mass timber is a more contemporary spinoff. Instead of solid wood beams and columns made from large trees, mass-timber frames incorporate engineered wood products such as cross-laminated timber (CLT), laminated veneer lumber (LVL), and nail laminated timber (NLT). Such components bind together small wood elements to form strong structural units.